During my quest to reduce our household's electricity consumption, I noticed that our 20-year-old fridge's compressor seemed to be running quasi continuously. As this was a rather clear indication of an inefficient appliance, we decided to swap it out for a new one. I somehow managed to convince my wife to postpone our purchase by a few weeks so that I could hook up a Fluksometer to the old fridge. I also monitored the new fridge to do some benchmarking. In a previous post I already mentioned that we were able to reduce our average nighttime electricity consumption from 130 watts to around 80 watts by swapping this 20-year-old fridge for an new 'A' labeled one. Here's a more detailed chart displaying the collected data over a 24h period.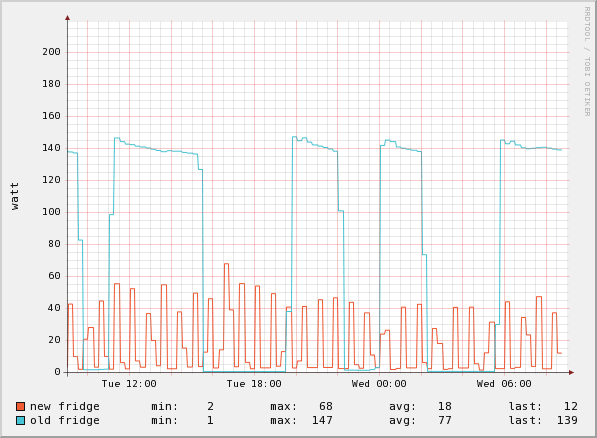 You can clearly see the old fridge having only four cooling cycles during this particular day, lasting between two to four hours each and consuming approx. 140 watts peak. The new fridge's data shows a more repetitive pattern with one to two, shorter cooling cycles per hour and power consumption mostly well below 60 watts. Extrapolating these measurements to a full year would result in our old fridge consuming 671kWh/year while our new one will only draw 161kWh/year! Money-wise this translates into running costs of 120EUR/year and 30EUR/year, respectively. This means our new fridge will have a payback period of less than four years.
This benchmarking exercise once again shows that negawatts, electricity that isn't created due to energy efficiency, can contribute significantly towards a greener life. In this specific case it doesn't require any behavioural change in our household whatsoever. With the new fridge in place we expect our five-person household to draw less than 2000kWh in 2010.